BankRate.com
Homeowners who refinanced their mortgages in recent months seem ready for another round of savings as rates tumble to new record lows.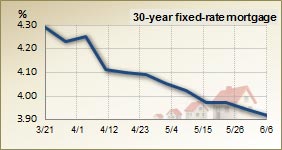 30 year fixed rate mortgage – 3 month trend
The benchmark 30-year fixed-rate mortgage fell to 3.92 percent from 3.94 percent last week, according to the Bankrate.com national survey of large lenders. The mortgages in this week's survey had an average total of 0.42 discount and origination points. One year ago, the mortgage index was 4.65 percent; four weeks ago, it was 4.02 percent.
This week's rate of 3.92 percent is the lowest level the 30-year-fixed has reached since Bankrate started the survey more than 26 years ago. The fixed rate has not increased in the weekly survey since early April when it was 4.25 percent. The rate has reached a new low every week since then, except one week in May when it stayed unchanged.
The benchmark 15-year fixed-rate mortgage rose to 3.16 percent from 3.15 percent the previous week, and the benchmark 5/1 adjustable-rate mortgage fell to 2.99 percent from 3.01 percent.
Why do rates keep falling?